Posts for tag: pediatric dentistry
By Providence Dental Associates of Media
November 06, 2018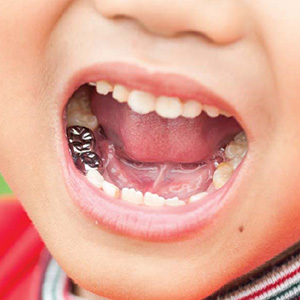 Although primary ("baby") teeth have a lifespan of only a few years, they're still important to a child's current and future dental health. In the present, they help a child eat, speak and smile properly. They also help create a healthy future as placeholders for developing permanent teeth yet to come in.
If, however, a child loses a primary tooth prematurely due to decay, the corresponding permanent tooth could come in misaligned. That's why we do what we can to help a decayed primary tooth reach its full lifespan. And there are different ways to do this depending on the type of tooth.
With front teeth, which don't encounter the same chewing forces as those in the back, we may use a tooth-colored filling. This approach is also preferable for appearance's sake since front teeth are highly visible when a child speaks or smiles.
Primary molars, on the other hand, need a more robust solution. A filling may not be able to withstand the level of long-term chewing forces that these back teeth normally encounter. And because they're less visible than front teeth, there's less concern about aesthetics.
That's why many pediatric dentists prefer stainless steel crowns for molars. Just like their permanent teeth counterparts, a primary crown fits over and completely covers a tooth. They're typically pre-formed, coming in different shapes and sizes that can then be customized for the tooth in question. After preparing and removing any decayed material from the tooth, we can usually install the crown in one visit with local anesthesia and a sedative (if the child needs it for anxiety).
While a steel crown isn't the most attractive restoration, it typically handles the higher chewing forces in the back of the mouth better and longer than a filling. That's especially critical for primary molars, which are some of the last teeth to fall out (as late as ages 10-12).  And besides preserving it as a permanent tooth placeholder, a crown also helps the tooth function effectively in the present.
Regardless of what method we use, though, preserving primary teeth is a primary goal of pediatric dentistry. And with a stainless steel crown, we can keep those important back molars functioning for as long as they're intended.
If you would like more information on caring for primary teeth, please contact us or schedule an appointment for a consultation. You can also learn more about this topic by reading the Dear Doctor magazine article "Stainless Steel Crowns for Kids."
By Providence Dental Associates of Media
May 10, 2018
When your baby's first teeth come in, you might not think it necessary yet to worry about tooth decay. But even infants can develop this common dental disease. In fact, it has a specific name in children 6 and under: early childhood caries (ECC).
About one-fourth of U.S. children have ECC, and poor or minority children are at highest risk. Because of primary ("baby") teeth's thin enamel layer, ECC can spread to healthier teeth with unnerving speed, causing extensive damage.
While such damage immediately affects a child's nutrition, speech development and self-esteem, it could also impact their future oral health. Permanent teeth often erupt out of position because of missing primary teeth lost prematurely, creating a poor bite. And children with ECC are more likely to have cavities in their future permanent teeth.
While there are a number of effective treatments for repairing ECC-caused damage, it's best to try to prevent it before damage occurs. A large part of prevention depends on you. You should, for example, begin oral hygiene even before teeth come in by wiping their gums with a clean, damp cloth after feeding. After teeth appear, switch to daily brushing with just a smear of toothpaste.
Because refined sugar is a primary food source for decay-causing bacteria, you should limit it in their diet. In the same vein, avoid sleep-time bottles with fluids like juices, milk or formula. As they grow older, make sure snacks are also low in sugar.
You should also avoid spreading your own oral bacteria to your baby. In this regard, don't put their eating utensils or pacifier in your mouth and don't drink from the same cup. Avoid kissing your baby on the lips. And above all, take care of your own oral health to prevent your own encounter with dental disease.
Finally, start regular dental visits on or before your baby's first birthday. Regular cleanings and checkups increase the chances for early decay detection, as well as provide for treatments and prevention measures that can reduce the disease's spread and destruction.
ECC can be devastating to both your baby's current and future dental health. But with vigilance and good dental practices, you may be able to help them avoid this serious disease.
If you would like more information on tooth decay prevention in young children, please contact us or schedule an appointment for a consultation.
By Providence Dental Associates of Media
February 08, 2016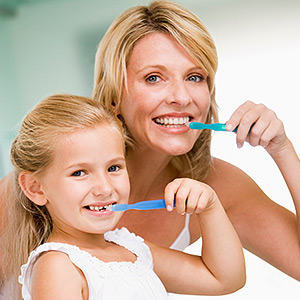 Between infancy and the onset of puberty, your child will grow one set of teeth, lose it and grow another; their jaw structure will also change dramatically. This rapid development sets the course for their oral health later in life.
That's why it's so important to care for their teeth and gums in these early stages through daily hygiene and regular dental visits for disease prevention and treatment. Hygiene is the cornerstone of this care, and should begin in earnest when your child's first tooth erupts in the gums, by first gently cleaning around the newly erupted teeth and gums after each feeding with a water-soaked gauze pad.
As they pass their first birthday you can switch to a small, soft-bristled toothbrush and just a smear of fluoridated toothpaste. Children should begin learning to brush around age 2, first by modeling you as you brush together. They should be adept enough by age 6 to brush on their own, at which time you can introduce flossing. We're more than happy to advise you on technique for both of these hygiene tasks.
Age one is also the time for them to begin regular dental visits for cleanings and checkups. This will help us stay ahead of any developing decay or other issues and perform preventive treatments like dental sealants or fluoride applications. It will also help your child become comfortable with the dental office, which can make it easier for them to develop a long-term habit of regular dental care.
There are also habits you should practice (or avoid) that support good oral health for your child. For example, you shouldn't allow them to sleep with a pacifier or a bottle filled with anything but water. Breast milk and formula contain some forms of sugar that bacteria can feed on; if this becomes too frequent it can result in higher acid levels that soften enamel and lead to decay. You should also take preventive actions to protect your child from teeth-damaging injuries like playing too close to hard furniture.
All these common sense measures support your child's oral development. You can then let Nature takes its course as your child develops a healthy mouth for a lifetime.
If you would like more information on oral care for children, please contact us or schedule an appointment for a consultation. You can also learn more about this topic by reading the Dear Doctor magazine article "Top 10 Oral Health Tips for Children."