Replacing missing teeth is important if you want to maintain a healthy and beautiful smile. When teeth are missing, the remaining ones can change position. You may find it difficult to properly chew your food or to speak clearly. Tooth decay and periodontal (gum) disease can develop, as it can be difficult to clean crooked teeth.
If you are missing one or more teeth, you'll be happy to know that we can recommend and perform these options for restoring your smile:
---
Dental Implants
Dental implants are becoming more popular as a replacement option to replace a single tooth, several teeth, or to support bridges and dentures. Implants are cylinders that are surgically placed in the upper or lower jaw where they function as a sturdy anchor for replacement teeth.
Single Tooth Implant
| | |
| --- | --- |
| | We will refer you to a highly-qualified oral surgeon or periodontist for the first phase of work. A healing cap is affixed to the implant fixture once it has had ample time to fuse to the bone (4 to 6 months). |
| | Next, we will apply an abutment to the implant fixture. This abutment serves as a post, to which a crown can be attached. |
| | Finally, the crown is attached and the implant is complete. |
Implant-supported Bridges and Dentures
Dental implants may be used to support a bridge when several teeth are missing. The bridge replaces the lost natural teeth and some of the tooth roots. An implant-supported bridge does not require support from adjacent teeth.
If you are missing all of your teeth, an implant-supported denture can replace the missing teeth and some of the tooth roots. Because the dental implants integrate with the jawbone, an implant-supported denture tends to be comfortable and stable, allowing you to bite and chew naturally.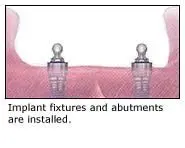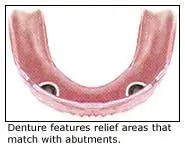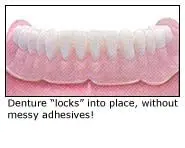 View more implant dentistry done by Providence Dental Associates »
---
Fixed Bridges
A fixed bridge may be used to fill a gap of multiple teeth if there are healthy teeth on either side of the gap. A fixed bridge may also be attached to dental implants. The bridge, like a crown, is made of porcelain and cemented into place.
---
Partial or Full Dentures
Removable partial dentures have replacement teeth attached to gum-colored bases. They attach to your surrounding natural teeth with clasps or precision attachments. Newer technologies also allow us to create tooth or gum colored clasps that provide a more aesthetically-pleasing look than traditional metal clasps.
If you have lost all of your natural teeth, full dentures can replace your missing teeth — and your smile. You'll also be able to eat and speak in a natural fashion. A full denture can be crafted to attach to dental implants, which can provide greater security and a more natural fit.
---
If you're looking for innovative ways to replace missing teeth and restore your smile, contact our office at (610) 566-3326 to schedule a consultation.