Kimberly came to Providence Dental Associates in 2002 with a mission: to brighten her smile before her May 2003 wedding. Kimberly had recently attended a friend's wedding and was shocked to see how bad her teeth looked in photos that had been taken at that event. In particular, one front tooth was noticeably discolored and it immediately attracted one's attention.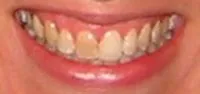 On her first visit to Providence Dental Associates, Kimberly met with Dr. Sophocles to discuss her needs. Besides successfully accomplishing Kimberly's mission, Dr. Sophocles wanted to ensure that her overall dental health was being considered. In particular, Dr. Sophocles wanted to identify the cause of the discoloration on the front tooth.
Upon examination, it was clear that the source of discoloration was not external. Tracing the history of the tooth, it seemed likely that trauma inflicted on the tooth many years ago was causing the problem. Dr. Sophocles expressed concern for the vitality of the tooth, but after x-rays and tests were performed by a local specialist, it was determined that the tooth was still alive. This meant that much, if not the entire tooth could be saved.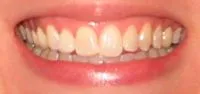 Applying the principal of minimally invasive dentistry, Dr. Sophocles and Kimberly agreed to first try localized laser bleaching on the tooth, rather than applying a veneer. After just three sessions, Kimberly was sufficiently happy with the change in color and began using the Colgate Platinum Toothwhitening System at home.
Thanks to Dr. Sophocles, Kimberly had completed her mission: she had a picture-perfect smile in time for her wedding. And she has many pictures of which she is very proud to prove it!